Sand blasting for cars, bikes or vans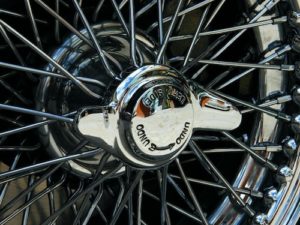 If you need to really get rid of that rust, grease, dirt, oil and road grime – or prepare that fresh new metal for priming and painting – you are going to need to blast that vehicle. At Whites we have helped to remove and restore through using expert blasting techniques for more than twenty years.
Blasting extends the life of your vehicle by giving it a thorough cleanse which can extend the life of its parts by years – saving you hundreds of pounds in repair bills. For classic or vintage cars blasting can help achieve a truly smooth, sleek, shiny metallic surface for that showroom look.
Abrasive blasting is a highly skilled process – especially when undertaken on delicate car or motorcycle parts. A stream of abrasive material is propelled against the metal under high pressure. Depending on how this is done the metals of your vehicle can be:

Smoothed if they have become rough
Prepared for the adhesion of primer and paint if they are new
Cleaned of surface contaminants and erosion if they are old

We are experienced in blasting to place the class back into classic cars, restore vintage cars back to life, prepare new metal for paint and bring motorbike tanks back to their former glory. We work with all types of vehicles new and old.

Our team of trained mechanics use a variety of techniques to get the best results for your vehicle. These include:

Sand blasting
Shot blasting
Bead blasting
Soda blasting
For all types of blasting
Whether you are looking for many layers of paint and filler to be removed from an older car, a shot blast to remove powder paint, a complete car chassis clean or individual motorcycle components to shine once more the team at Whites can help.
Call us now on 07843 625021 to find out about the range of blasting services we can offer for your car, van or motorcycle. We are often busy at work powering our way through encrusted grease and embedded rust but we will call you back and talk through your requirements with you.
What people are saying about us…
After some self inflicted damage to the wheel arch and bumper on my SLK I contacted Phil as he had great reviews. He quoted me the same day as seeing the car and carried out the repair to a very high standard within 5 days. No corners were cut, genuine parts used, and a fantastic end result at a reasonable price.