We're

experts in all things automotive

, so whether you have a dent or a ding or need a vintage Bentley brought back from the brink, White's have the skills and the patience to bring your car back to life. We're passionate about cars and motorbikes too, and

you can trust White's to handle your car

with the same loving care as you do. We've been providing car body repairs, motorcycle paintwork and classic car restoration for over two decades, from sympathetic restorations to custom paintwork on new sports bikes.
Walk into White's Bodyworks and things are different, we're not like the dealers with the rushing and fretting, we focus on getting things right – whether it's a classic car restoration and we're back to the original blueprints, or a car body repair and we're making sure every line and panel is true.
Our quality control is second to none; we guarantee excellence and promise we don't cost the earth. No job is too big, and nothing's too small, from a scuff or a scratch, our car body repair is second to none. Our motorcycle paintwork's up there with the best too – but don't take our word for it, take a look through our gallery and see for yourself. Our team of experts know almost all there is to know about classic car restoration and car body repair, with qualifications up to 'Distinction' level, handfuls of NVQs and paint training courses, but most important of all – years of experience sympathetically returning long lost classics to their former glory.
We're happy to undertake all insurance work for vintage car body repair, with all the work guaranteed. You simply drop off the vehicle with us and we'll do the back and forth with the insurance company, so the only call you get is the one telling you the work is complete. We'll even pay £100 of your excess for you!

We're often under a car somewhere, but call Phil today on 07843 625021 and talk to us about classic car restoration or car body repair, we'd love to hear from you!
Recent Media Appearances
Morris Minor Painted by White's Bodyworks for Discovery Channel's "Wheeler Dealers".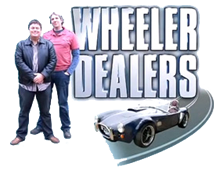 Testimonials from Others