Our Classic Car Restoration Service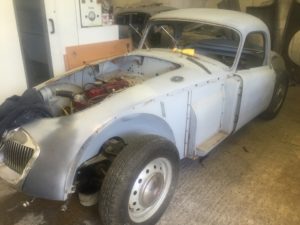 White's Bodyworks have been offering classic car restoration for the last 20 years. We are passionate, experienced and settle for nothing less than perfection in our work. If you want your pride and joy restored to its former glory, then look no further.
Our main restoration services are listed below:
Do have a look at our portfolio to see some current and previous projects.
Putting Your Classic Car Back on the Road
While our day to day business is repairing every dent and ding you could imagine, above all our real passion is vintage car restoration.
Some repairs take a few hours to sort out and have your car back in pristine condition. Others take a little more love and attention. Take this racey looking Volvo P1800 that came in for a full restoration a few months ago.
Or how about this sleek, beautiful Daimler Dart, one of the classic cars of the late fifties and early sixties. This gem had suffered from repeated paint jobs by people who didn't know what they were doing and part of our job was to get those layers off, repair any bodywork that needed it and then re-spray it properly.
Our Passion
It may have been sitting around for a few years gathering dirt and dust or just needs some loving care and attention and perhaps you've never been quite sure where to take your vintage car. You don't want to trust it to someone who doesn't know what they are doing, after all it's your pride and joy.
If you live in Sussex and want a locally sourced expert who can give you the right advice, do the work needed at a price you can afford and treat your classic car with the respect it deserves, then we may just be able to help.
At White's Bodywork we don't like to leave our customers hanging around when we do a job. As Linda Killick said recently: "Phil White provided an immediate quote on site and work completed on time on budget I was kept informed of progress throughout. I'm thrilled with the result and the excellent customer service."
On occasion we like to get to various shows and exhibitions across the country, give us a shout to see where we'll be next.
We've written a guide to get enthusiasts started in the restoration game. This is a pretty useful one too.
Recent Media Appearances
Morris Minor Painted by White's Bodyworks for Discovery Channel's "Wheeler Dealers".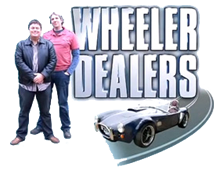 Testimonials About Our Classic Car Restoration Service