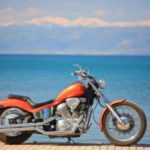 Trying to find reliable motorcycle transport in Sussex to get your mean machine from Arundel to Burgess Hill? Need to get it a little further like a classic motorbike show in Scotland? Want your trusty steed to join you when you move to Amsterdam?
White's Vehicle Transport specialise in motorbike transportation for trade, auction houses and private owners who want to get their rides to a different location.
With a more personal service than many of our  well-known competitors and a reputation for getting the job done quickly, we offer great prices and secure collection and delivery for any location in the UK and EU.
There are plenty of reasons why you might need motorcycle transport in Sussex. The great news is that White's Vehicle Transport have most of the bases covered.

You could be a sales room that wants to get a delivery out to a customer in pristine condition. Maybe you sold your old bike on Autotrader or even eBay and now want to have it delivered. You could be a classic motorcycle enthusiast who wants to get their bike to the next big event across country.

White's Vehicle Transport are used to dealing with a whole range of different customers and they all get the same thing – attention to detail and a friendly service, all at a competitive price.

If you want to find out how we can help, give us a call today.

Many companies say they offer the best professional service on the market. At White's Vehicle Transport we pride ourselves in making sure that the customer stays at the top of our list of priorities. We've been delivering great service for the last twenty or so years with our bodyworks outfit – we've even been on a few TV programmes like Wheeler Dealers in the past.

Our drivers and flatbed trucks are fully insured to carry any motorcycle, collecting from and delivering to any location in the UK and Europe. The trucks can carry up to four bikes at a time and our team are experts in making sure your cargo gets from pick up to delivery on time and in pristine condition.

More and more private individuals and businesses need a transport service into Europe nowadays. Whether that's getting your beloved bike to a new home on the Algarve or simply delivering a bike to be shown at a trade event or on a film set in Paris or Berlin.

The great news is that the best motorcycle transport in Sussex also collects and delivers across the whole of the UK and Europe. Visit our website today to find out more.