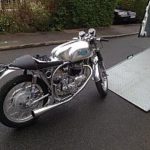 From Ashgate to Broadstairs and Ramsgate to Margate, Kent's motorcyclists are known for their passion and they won't let just anyone look after their machines. If you are searching for motorcycle transport in Kent that comes with a personal service and great prices, then why not try White's Vehicle Transport.
We specialise in providing a niche service for the trade and private owners who need to get their rides from A to B without taking to the roads and with the minimum of fuss.
With a dedicated team who are committed to providing a top quality service, if you live in the Kent area then there is only one transport company where you can get the competitive rates you're looking for.
We deal with a range of different customers and clients across the Kent region, from Folkstone to Dartford and everywhere in between. These include:

Private sellers and buyers
Trade organisations such as motorbike dealers
Auction houses and online sellers
Manufacturers and distributors
Restoration and renovation companies

Our flatbed trucks can take up to four motorcycles at a time and deliver them anywhere in the UK and across Europe.

Visit our website to find out more today.

We know how passionate the motorcycle owners of Kent are about their bikes and everything that goes with the biking lifestyle. That's why we are committed to providing a top class transport service that people notice and want to use again.

We already provide a great garage service through our bodyworks shop which has helped restore many a classic as well as help get everyday cars and motorcycles back on the road.

With full insurance for our drivers and trucks, allowing us to handle any motorcycle transportation job, you can be sure that your bike will be safe with White's Vehicle Transport.

Whilst you may be looking for motorcycle transport in Kent, the chances are you could want to go further afield. The great news is that White's offer a service across the UK and throughout Europe. So if you need your bike taking to Spain or Italy or France, in fact anywhere in the EU, we can collect and deliver at a competitive cost.

You can find out more about our transportation service for motorcycles in Europe and get a quote on our website.