Removing Worthing's dents and dings
White's Bodyworks has been repairing motorbikes and cars from Worthing ever since Suede first graced the stage at the Worthing Pavilion back in 1994. That's a lot of dents and dings removed from Durrington, bikes fixed from Broadwater, oil and grease used in Goring and engines tuned in Tarring. We offer a local service that is hard to beat nationally, which is why Free Index lists us in its top 5 repair services of the UK.
A valuable service for Worthing motorbikes
We love motorbikes as much as you do.
We work hard to make sure your bike leaves us looking better than you could ever imagine. From repair to respray to restoration, there is simply no job too small—and certainly none too complex—for us.
Take this Suzuki SB3 Bimota we recently repaired for a customer from Worthing. It arrived in something of a sorry state with its fairings split and its paint blistered and cracked. After making the much needed repairs we gave the bike a complete repaint and carefully applied new graphics and its distinctive red stripe. The bike purred out of the workshop and its rider looked pretty content too!
Check out more Worthing motorcycles and cars that we've repaired:

"Thanks for the repairs and fantastic paint job on my Suzuki GS1100G. Having taken the bike to several local bike shops, only to be told the damage was not worth the cost of fixing, I was delighted that you felt you could make the repairs for what seemed a reasonable amount. Having collected the bike with its gleaming paintwork the cost seems more than reasonable – it is nothing short of miraculous!"
David Atherton, Worthing
Keeping bikes on (and off) Worthing's roads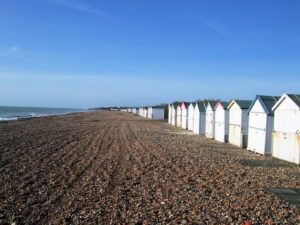 http://www.geograph.org.uk/photo/3309682
Whether your bike needs repairing to cruise the glorious Worthing seafront, take off into the splendour of the South Downs or leave the roads altogether as part of the Worthing Trials Club, we can make those essential repairs or resprays that you may need. With more than 30 motocross tracks little more than an hour's drive from Worthing there are plenty of opportunities to enjoy your ride both on and off the road.
Worthing bike repairs on your doorstep
We're local experts in repairing Worthing motorbikes and help is never more than a call away. Contact us on 07843 625021 for a local bike service that exceeds national standards.
What we love about Worthing
Here are some links to our favourite Worthing events, listings and places.
Our favourite event of the year has to be the crazy attempts to fly off Worthing Pier that make up the annual Birdman festival. Icarus eat your heart out!