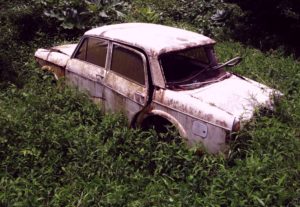 We are well-known to the car enthusiasts of Worthing, mending their dents and tuning their engines. From simple repairs to full classic car restoration, you'll find a team dedicated to the humble automobile at White's Bodyworks.
Phil and his loyal band of workers provide a local service to Worthing that is second to none – we don't get bad reviews and our reputation for giving honest appraisals and getting the job done quickly and affordably means we are rated one of the top five repair services in the UK. http://www.freeindex.co.uk/profile%28whites-bodyworks%29_401419.htm
Putting Your Classic Car Back on the Worthing Road
While our day to day business is repairing every dent and ding you could imagine, our real passion is classic and vintage car restoration. If you've ever seen a classic car sashaying around Worthing, chances are Whites Bodywork have had a role in restoring and maintaining it.
Some repairs take a few hours to sort out and have your car back in pristine condition. Others take a little more love and attention. Take this racey looking Volvo P1800 that came in for a full restoration a few months ago. http://www.whitesbodyworks.com/portfolio/volvo-p1800-restoration/
Or how about this sleek, beautiful Daimler Dart, one of the classic cars of the late fifties and early sixties. This gem had suffered from repeated paint jobs by people who didn't know what they were doing and part of our job was to get those layers off, repair any bodywork that needed it and then re-spray it properly. http://www.whitesbodyworks.com/portfolio/daimler-dart-restoration/
Worthing Loves its Classic Cars
We know that Worthing has a penchant for the classics. That's why it hosts the Worthing Rugby Club Classic Car Show in August each year. The event attracts enthusiasts from across the country, turning the grounds into a vintage car fest that is great for all the family.
Every year cars of all types and ages turn up to wow the public from marvellous Morris Minors and fabulous Ford's right through to classic Sportsman Saloons and the devilish drop head Daimler. If you want to see why we love classic car restoration so much then just pay a visit to Worthing and see all those beauties on display.
Caring About Your Classic Car Restoration
It may have been sitting around for a few years gathering dirt and dust or just needs some loving care and attention and perhaps you've never been quite sure where to take your vintage car. You don't want to trust it to someone who doesn't know what they are doing, after all it's your pride and joy.
If you live in Worthing and want a locally sourced expert who can give you the right advice, do the work needed at a price you can afford and treat your classic car with the respect it deserves, then we may just be able to help.
At White's Bodywork we don't like to leave our customers hanging around when we do a job. As Linda Killick said recently: "Phil White provided an immediate quote on site and work completed on time on budget I was kept informed of progress throughout. I'm thrilled with the result and the excellent customer service."