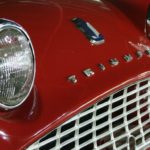 From gleaming Ducatis to sleek Jaguars, White's are no stranger to the classic car market – it's something that we're very passionate about. If you have been searching for classic car and vintage motorbike transport in Sussex, then we can offer the perfect solution to your needs.
Not only are our team classic enthusiasts in their own right, we have the knowledge and expertise to get your precious car or motorbike from A to B with the minimum of fuss, securely, and at a competitive price too.
Whether you are a private owner or work in the trade, only White's can provide the serious transport service and logistics you need.
Classic cars and vintage motorbikes are big in the south east of England, particularly in Sussex where there are a number of events each year enthusiasts get to show off their vehicles. There are plenty of times, however, when that bike or car needs a little helping hand:

Delivering to and from auction houses when it's time to sell
Transporting to events in distant parts of the UK or across Europe
Moving to a specialist garage for renovations or repairs

Whatever you need a lift for, then contact us at White's Vehicle Transport to see how we can help.

White's have got a reputation for the classics. Phil and his team have operated a top notch bodyworks shop that has helped renovate and restore a number of classic cars and vintage motorbikes over the years. We've even had our moment in the spotlight with TV programmes such as Wheeler Dealers.

The professional transport we provide is simply an extension of this service for classic cars and motorcycles. All our trucks are fully insured to carry classic vehicles and our team have a unique perspective and no small degree of skill when it comes to dealing with vintage transportation.

White's Vehicle Transport don't just operate in Sussex, we can collect and deliver any classic car or vintage motorbike in the UK and Ireland and throughout Europe. So if you have a Morris Minor in Madrid we can go and pick it up and bring it back to England for you.

Our aim is to provide the service that classic vehicle owners need to get their cars and motorbikes to any location in the UK and EU. Find out more and get a quote from our website.