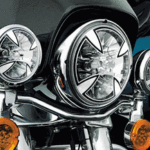 Ever tried to get you 1930s Alvis to Ashford? Want to give your Triumph Daytona a lift to Dorking?
If you are searching for classic car and vintage motorbike transport in Surrey, then White's are here to provide the personal service and competitive pricing you're after.
Our flatbed trucks can take a single classic car or up to four vintage motorbikes and deliver them to any location in the UK or Europe. The good news is that our team are as passionate as you about vintage vehicles and you can be sure of getting our full attention when it comes to your transportation needs.
It's not simply a case of handing over a valuable bike or car to a third part when you opt for a classic vehicle transport company. You want to be sure that they know what they are doing. At White's we deal with a wide range of customers from those in the trade to private owners who expect a good deal of bang for their bucks.

Whether you are an auction house specialising in vintage cars and motorbikes or you've sold a vehicle online to a customer in Scotland and want it delivered, White's can handle the logistics of getting your classic investment safely from A to B.

Find out more and get a quote on our services when you visit the White's Vehicle Transport site.

Of course, you want a professional service if you are going to hand over the control of your classic car or vintage motorbike to us. At White's we have a passion for old vehicles and we've helped restore them on numerous occasions over the last twenty or so years. You can see some of our work on TV programmes like Wheeler Dealers and that'll give you an idea how seriously we take our business.

All our drivers and trucks are fully insured for every eventuality which means that your classic car or motorbike is covered on its journey. What's more, our team are experts at making certain every step is taken to ensure your vehicle gets to its destination in one piece.

We don't just offer classic car and vintage motorbike transport in Surrey – if you want your pride and joy taking to any part of the UK we can handle it.

White's also provide collection and delivery right across Europe which means we can get your vehicle to any location you choose. It's a door to door service so you don't have to worry about picking up from a central depot.

If you'd like to know more about our transportation service across Europe, then visit the Whites Vehicle Transport site now.