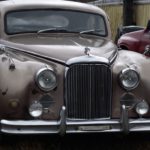 Kent has its fair share of vintage vehicle nuts who like nothing more than to tinker with their ride and take it to the local car show. If you are looking for classic car and vintage motorbike transport in Kent then you could do no better than give White's Vehicle Transport a call.
We're as passionate as you are about vintage vehicles and our job is to help you get them form A to B whether it's in Kent or across the UK, even Europe. Moving classic cars and motorcycles takes a great deal of care and attention as well as the right expertise.
At White's we have the track record of dealing with vintage vehicles of all kinds and we can offer a personal and competitive service for trade and private owners who need a hand in transportation.
There are plenty of reasons why you might need a classic car transport service. You might want to go to an event but don't really want to drive or ride your precious vehicle that kind of distance. Your car or bike could be used in a film or photo shoot somewhere in Europe and you want it carried there in pristine. You might have sold a classic car or a vintage motorbike and need to deliver it to someone in Kent.

Whatever you need us for, we provide the top quality service that keeps the classic car and motorcycle enthusiasts of  Kent coming back for more. If you want to find out how we do it, then visit our website today.

If you are giving up your beautiful vintage motorbike or classic car to someone else, then you want to make really sure that they know what they are doing. At White's, we have a fair amount of experience of dealing with all types of vehicles and we've got the testimonials and credentials to prove our metal.

In short, our team are passionate about old cars and bikes and they share your love of all things vintage. Whether you are in the trade or are a private owner, White's can provide the personal service you are looking for.

Many of our customers in Kent ask what distance we cover when it comes to the transportation of classic cars and vintage motorbikes.

The answer is that we can collect from and deliver to any location in the UK, Ireland and even across Europe. If you want your vintage Triumph taking to Paris or Madrid, Geneva or Rome, White's can work out the logistics and give you a fair, competitive price.

To find out more and get a quote on your transportation needs, pay a quick visit to White's Vehicle Transport now.