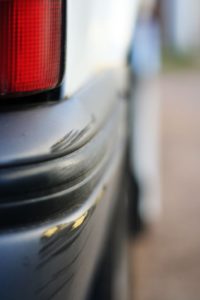 If you've had a prang in Worthing then you'll want to find a reliable car body repairs service at a price you can afford. You'll certainly want a good finish and a high standard of work and that can sometimes be hard to find.
That's where White's Bodyworks come in. We've been at it for the last 20 odd years, you see, providing a quality service that has put us at the top of the tree and created some lifelong fans amongst the motoring fraternity.
Happy customer Phil Scarlett sums it up perfectly: "After some self-inflicted damage to the wheel arch and bumper on my SLK I contacted Phil as he had great reviews. He quoted me the same day as seeing the car and carried out the repair to a very high standard within 5 days. No corners were cut, genuine parts used, and a fantastic end result at a reasonable price."
What's in it for Worthing?
Car body repairs can cover a wide range of services from a taking out a dent, respraying and repainting, more extensive damage from an accident or a restoration of a vintage car that has seen better days. We deal with private customers, trade, insurance claims and even cosmetic changes.
We've been working with drivers and car owners from Worthing for a long while now and we pride ourselves on quality repairs and renovations delivered on time at a competitive cost.
So let's have a look at some of our past jobs and let the people of Worthing decide:
We can make a small dent simply disappear like with this Audi S3. http://www.whitesbodyworks.com/portfolio/audi-s3/
There's nothing worse than a scratched fairing as this biker found out. http://www.whitesbodyworks.com/portfolio/triumph/
It's not just the small jobs we take on, this Volvo is undergoing extensive surgery but beginning to look as good as new. http://www.whitesbodyworks.com/portfolio/volvo-262c/
It's More Than Just Cars
It's also about service and making sure you get everything you need. We pride ourselves in being the friendliest garage around, getting to know what you need and making sure everything is to your satisfaction. Of course we've dealt with a lot of motorists from Worthing, working on everything from Minis to Fiats and Triumphs to Mercedes.
If you've been to the Worthing Rugby Club Classic Car Show in August you might have seen us wandering around admiring the cars and talking to the owners. Cars are our passion and that comes through in the way we run White's Bodyworks in Hassocks, just a short drive from the beach front at Worthing and the wonderful pier there.
Whether you live in Durrington, Broadwater, or Goring there's probably someone in your area who has used us to help return their car to pristine condition.
A Local Car Body Repair Service for Worthing
Whether you want your car repaired in time for the great Birdman Festival or just to drive down along the prom in Worthing, White's Bodyworks is here to help and get you moving again.